Queen Elizabeth II was the "people's Queen" and during her 73-year reign, Her Majesty also met a series of presidents, prime ministers, celebrities and superstars.
Being born into privilege came along with a very public upbringing.
From the moment she could walk, the young princess who was to become queen one day, charmed everyone.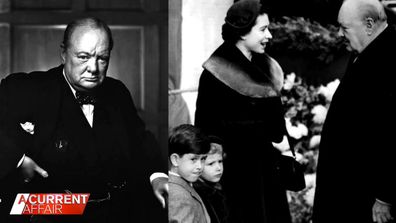 After her coronation in 1953, at the age of 25, the Queen quickly learned that the meet and greet was a part of life.
She had a full social calendar and shook a mind boggling number of hands during her reign.
She met with British Prime Minister Winston Churchill for the first time when she was just two.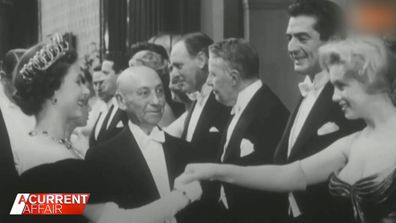 READ MORE: How the Queen overcame big changes at the turn of the century
She also met director Alfred Hitchcock, Marilyn Monroe and Neil Armstrong.
World leaders who gained an audience with the Queen
The Queen came face-to-face with world leaders including Yugoslavian dictator Tito, France's Charles De Gaulle, Romania's Nicolae Ceausescu, South Africa's Nelson Mandela, Saudi's King Abdullah, India's Indira Gandhi, Zimbabwe's Robert Mugabe, Russia's Mikhael Gorbachev and Vladimir Putin and China's Xi Jinping.
READ MORE: Tears flow in Australia for Queen
Thirteen US Presidents shook her gloved hand, including Harry S Truman, Dwight D Eisenhower, John F Kennedy, Richard Nixon, Gerald Ford, Jimmy Carter, Ronald Reagan, George Bus, Bill Clinton, George W Bush and the latest – Joe Biden.
Infamous faux pas
There were a couple of bungled meetings along the way too.
One of the most infamous faux pas included the time Barack Obama bungled an official toast, while his wife Michelle dared to place her arm around the monarch.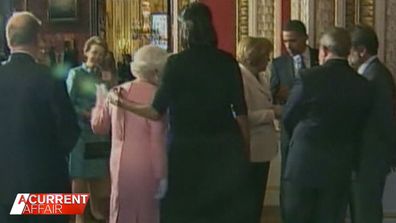 It must have been something American, because Donald Trump also broke protocol when he walked in front of Her Majesty.
Queen Elizabeth II shared pleasantries with four Popes – Pope John XXIII Pope Jean Paul II, Pope Benedict and Pope Francis.
Her celebrity photo album was also unmatched.
READ MORE: 'I don't think people are ready': World waits for new king to make mark
Celebrity acquaintances
She became acquainted with the stars of stage, screen and sport including Jimmy Stewart, Bob Hope, Ava Gardner, Peter O'Toole, Sir Alec Guinness, Peter Sellers and Brigitte Bardot.
She also met with Woody Allen, Sally Field, Frank Sinatra, Jane Mansfield, Mickey Rooney, David Beckham, Rowan Atkinson, Helen Mirren, Christopher Lee and Angelina Jolie along with other stars in their own right – Bill Gates, Jamie Oliver, Anna Wintour, J K Rowling and Yoko Ono.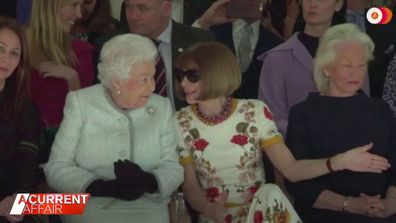 The 007's Sean Connery, Roger Moore, Pierce Brosnan and of course Daniel Craig were also introduced to the Queen.
Then there were the rock stars who met her including The Beatles, Barbra Streisand, The Jackson Five, Sir Elton John, Sir Cliff Richard, Shirley Bassey, Sir Tom Jones, Rod Stewart, Celine Dion, Madonna, Lady Gaga, The Spice Girls, One Direction and Jennifer Lopez that met her too.
READ MORE: The highs and lows of a remarkable reign
Subjects Down Under
Stars Down Under were always popular with Her Majesty too.
Even a stubby shorts and cut-off shirt wearing, Harbour Bridge rigger, by the name of Paul Hogan received an audience.
As did our favourite neighbours, Jason Donovan and Kylie Minogue and Olivia Newton-John, Hugh Jackman and Elle MacPherson.
Australian prime ministers going all the way back to Sir Robert Menzies received an audience too, as did Scott Morrison, Kevin Rudd, Tony Abbott, Julia Gillard, Malcolm Fraser, John Gorton, John Howard and Bob Hawke.
The Queen visited Canberra the year after Sir John Kerr sacked Gough Whitlam and Paul Keating made international headlines as the "Lizard of Oz" when he placed his hand on the royal back.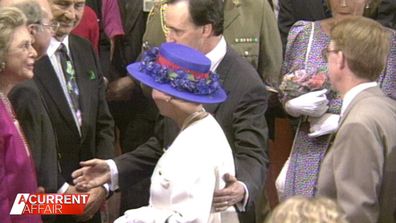 But away from the spotlight the Queen always made time for her subjects – the people of her Commonwealth.
On a trip to outback Australia, the young monarch quickly learned the great Aussie salute and adopted what became known as the walkabout during her 16 trips Down Under.
Her life was one that was lived to the fullest and was generously shared with so many, if only briefly and her last official handshake was with the UK's new Prime Minister Liz Truss, just days ago.
In Pictures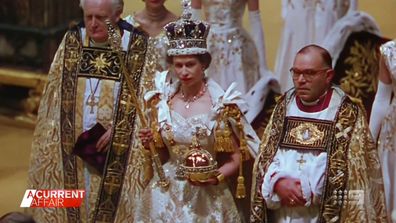 'Duty was everything': Britain's longest serving monarch remembered
Queen Elizabeth II is being remembered today, after it was announced she had passed away at Balmoral on Thursday.