Childcare workers across the country united in a strike today, closing hundreds of centres to call for better pay and more workers.
The national "shutdown" impacted more than 70,000 families across Australia, and saw thousands of workers take the streets.
United Workers Union (UWU) early education director Helen Gibbons told 9News "educators have had enough".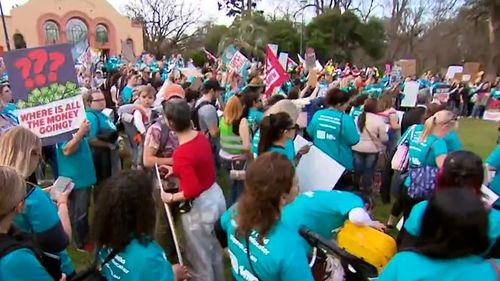 "They are voting with their feet. They are leaving the sector. We have got a crisis across the country," she said.
"They are vacancies in every early education centre across the country.
"We need to fix the sector and do something about the workforce and value early education properly. That is why early educators are hitting the street."
Speaking at a rally in Brisbane today, one worker said the impacts were affecting her personal life.
"It really does affect my family life," Kirra Kelly said.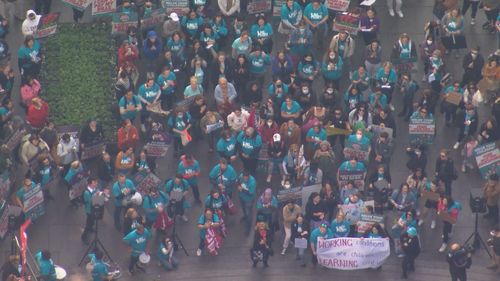 "My son is in primary school and he will notice if I'm really stressed and really worn down and he will ask why mummy is crying."
Similar stories like Kelly's were echoed across the country today.
Ruth Harper from East West Child Care in Melbourne said most parents supported the action.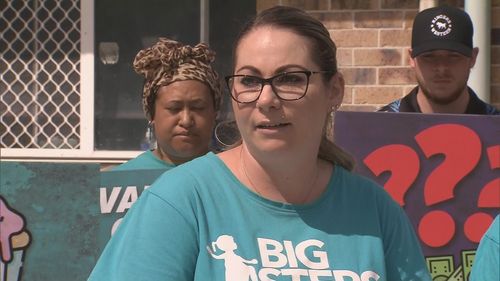 "It is now, for us, harder than it was during COVID," Harper told Today.
"I know a number of centres in inner city Melbourne who can't get staff. It's been hard in rural and remote areas for a long time, (now) it's hit the inner city.
"If you can't get staff in Fitzroy there is a problem."
She said paying staff a "living wage" would help the industry attract and keep workers.
"I know that early childhood educators are voting with their feet and leaving the sector," Harper said.
"Not only does that mean that staff numbers are down, but we're losing that knowledge and wisdom that we have there with them, and who's going to replace them?"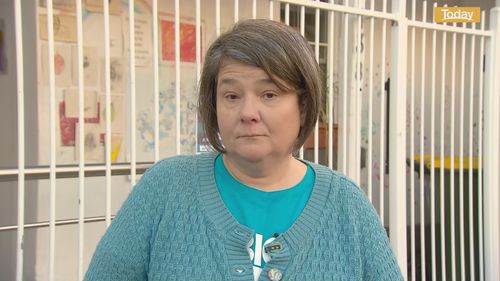 The UWU wants a plan and timeline from the government to improve conditions.
"Early childhood educators perform a vital role in our society and have the respect of the parents and families they support. It's time for the federal government to respect educators too," Gibbons said.
"We must reform the early learning sector to respect educators, and to give future generations the start in life they deserve.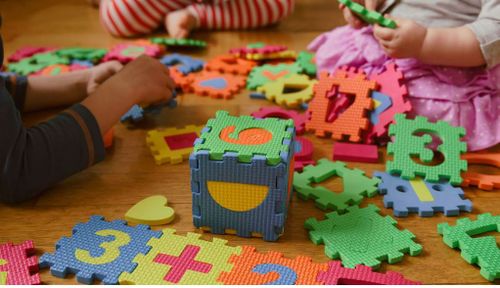 "Early childhood education must be recognised and valued for what it is: a vital part of the education sector."
Strikes have been held by healthcare workers, teachers and transport staff across Australia, particularly in New South Wales, in recent months as all industries demand better pay and working conditions.